Bobby Flay's Honey Rum Baked Black Beans
Bev I Am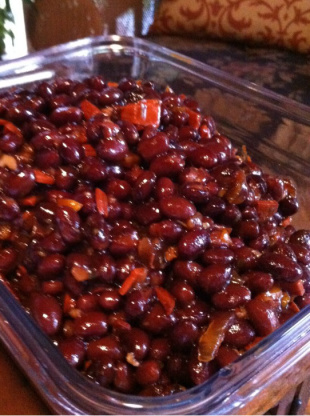 These are on my menu for the Fourth!

Super, Super Good! First of all, I found this recipe on the EatingWell site and came to see if it had been posted here. I was so glad to see Lvs2Cook already had it posted! I did make a few minor changes due to what I had on hand. I used 4 (15 oz) cans of black beans, meatless pepperoni (instead of the chorizo), only 1/2 cup dark rum, and used vegetable broth in place of chicken. I cooked in a 13x9" glass pan, covered for 30 minutes. Uncovered and cooked for an additional 45 minutes. The flavor is sensational and not at all soupy. Baked beans are suppose to be sweet and this recipe is sweet, but not overly sweet for our taste. The original recipe I found on EatingWell says this serves 16 (not the 8 servings stated in this post) which would definitely reflect in the nutritional facts given here. I will definitely make this again!! Thanks so much, Luvs2Cook!!
If using dried beans, place in a large pot with cold water to cover and let stand for 8 hours or overnight. Drain the beans and again add cold water to cover. Bring to a boil over high heat; then reduce the heat to medium and simmer until tender, about 1 hour. Drain and reserve.
Preheat oven to 300 degrees F.
In a saute pan over medium-high heat, saute the chorizo until it is brown and the fat is rendered, about 5 minutes. Remove the chorizo from the pan and pour off all but 3 tablespoons of the fat. Add the onion, garlic, and carrot and sweat until the onion is translucent and tender, about 4 minutes.
In a mixing bowl, combine the chorizo mixture with the beans, rum, and honey and season to taste with salt and pepper. Pour the mixture into a casserole or baking dish, add the stock, and cover.
Bake the beans 20 minutes. Check to see if the mixture is dry and add water or stock if needed. Continue baking, covered, another 25 minutes. Uncover and bake an additional 15 minutes. Remove from the oven and fold in the cilantro. Serve immediately.