Bob Evans Chicken & Noodles (Copycat)
Stacky5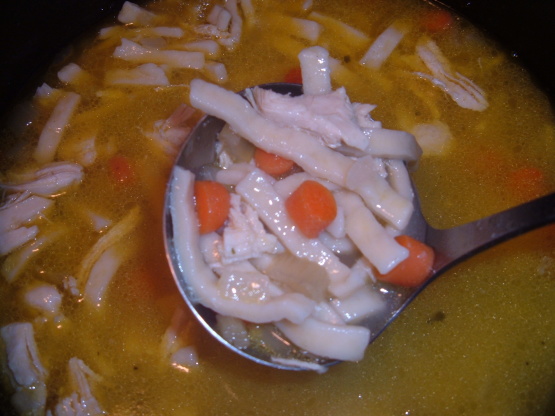 This is a WONDERFUL recipe that I have looked for over 7 years now! I finally got the recipe from Chef Betsy502, who has someone in her family that worked at Bob Evans, and then Impera Magna re-calculated all of the ingredients to make it a home-cooked meal for my family! YAY for the Chefs here on Zaar! This is so good! Such comfort food, I simply can't explain! ENJOY! (And thank you SO MUCH, Betsy502 and Impera Magna for helping me achieve my DREAM RECIPE!) :)

We love the Bob Evans recipe called Chicken & Noodles Dinner, so I wanted to make it at home. Found this recipe and have modified it over time to fit my large table requirements (5 people eats like 10!). To make it slightly thicker than just broth, I do the roux - cook the onions & celery in butter, then add the flour. I will also use chicken stock instead of all water. In addition, I will add a can of chicken & herb condensed soup to the recipe so it will sit a little thicker on the mashed potatoes and buttermilk bisquit. I have also added fresh parsley, sage and marjoram near the end of cooking. For Thanksgiving leftovers, I cooked the veggies and broth with the biggest turkey bones for an hour before taking them out and adding the dark meat leftover turkey. YUM!
In a large stock pot, mix water, carrots, celery, onions, chicken bouillon, melted butter, pepper and chicken pieces.
Bring to a boil, turn to low heat and simmer for 30 minutes.
Add noodles and simmer on medium-low heat for an additional 10 minutes.