Bo Ling's Long Life Noodle Soup
MsPia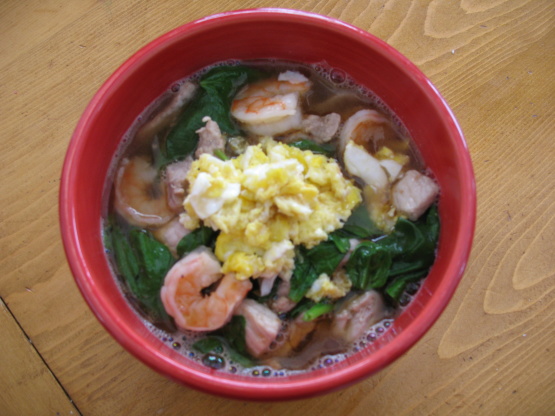 Found this copy kat recipe ...

I was so glad to find this recipe! I ate this at Bo Ling's just last weekend and have been craving it ever since. Made a big pot this morning and it's delicious. Thank you!
Soak rice noodles in cold water.
Boil 3 quarts of water. When boiling remove noodles from cold water put in boiling water. Cool 3 minutes. Remove from heat, rinse, drain. Set aside.
Pan fry eggs (scramble); set aside.
Heat oils in wok.
Add finely chopped garlic, chicken breast (cut in strips) - when meat turns white add shrimp. Add stock, soy sauce and spinach.
Turn off heat.
Put noodles divided into two bowls. Add stock mixture. Top with egg.