Blushing Maid - German Raspberry Dessert
BecR2400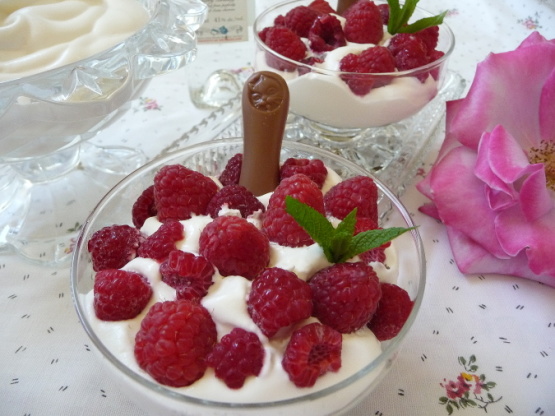 This is a dessert with the typical German ingredient pumpernickel bread. It could be called a German version of tifle, and there are several variations of it. If you don't have pumpernickel bread, you can also use any other dark stale bread, as long as it's a hearty, slightly sweet one. For the raspberry schnaps you can also use kirsch or Chambord. If you can get hold of vanilla sugar, use 2 tablespoons of it or more to taste. This dessert is not very sweet! Cooking time is resting time.

What an unusual, different dessert--we loved it!! Used a mixture of fresh and frozen berries (they were a bit tart, so I sprinkled a little sugar on them), real German pumpernickel, and opted for the Kirschwasser (I added some to the Chantilly whipped cream as well as to the pumpernickel-chocolate mixture, and so glad I did!). Delicious! The yogurt and whipped cream combination was ingenius -- why didn't I think of that. Not an uber-sweet dessert, and one which my diabetic DH didn't feel too guilty eating. Can't wait to make the Blushing Maid again for family and friends, I think this would be especially great following a German style dinner. Thank you so much for sharing your recipe with us, Mia in Germany! Made for More Than Sauerkraut & Dumplings in the German Forum. Cheers! Becky
Thaw the raspberries a little (they should not become too soft!).
Process the pumpernickel or bread to coarse crumbs, mix with chopped chocolate and put into glass bowl and soak with schnaps or juice.
Whip cream until stiff.
Cream yoghurt with the sugar and vanilla (or vanilla sugar).
Fold in whipped cream.
Pour yoghurt cream over soaked bread crumbs.
Top with raspberries and refrigerate for one hour or so (it tastes better if it's a bit soaked through).