MsBindy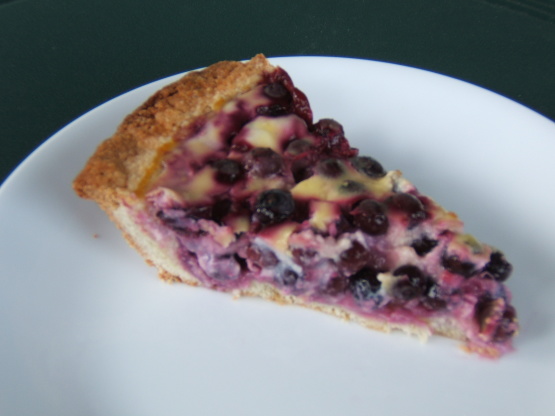 Posted for Zaar World Tour. This pie is a bit tangy...especially if your blueberries are not too sweet! You may want to consider adding a little more sugar to the filling if you like a sweeter pie.

Looking to scale back on my calories, I made mine in little custard cups without a crust. The results were a lovely cup of saucy blueberries covered by a tangy creamy layer of the filling. I tried mine 2 hours out of the oven and again the next day. Huge difference. The longer this cools, the better it gets - the yogurt gets creamier and sets up just perfectly. Plus the sauce in the berries gets juicier and firmer. Make it a full day ahead of time, it'll be worth it. (Also, using Splenda as I did makes it WW Core and SBD friendly.)
Butter and flour a 9 inch pie pan. Preheat over to 350°F.
For the crust: Cream the butter and sugar.
Add the egg and blend well.
Combine the flour and baking powder and mix them into the wet ingredients to form a soft dough.
With floured fingers, pat the sticky dough into the bottom of the pie pan. Push the dough up the sides of the pan.
Refrigerate as you make the filling.
Filling: Mix all the filling ingredients, except the blueberries until smooth.
Put the berries into the pie shell and gently pour in the filling so the berries are coated and evenly distributed.
Bake for 50-60 minutes until the crust is browned and the custard has set.
Chill well.