teresas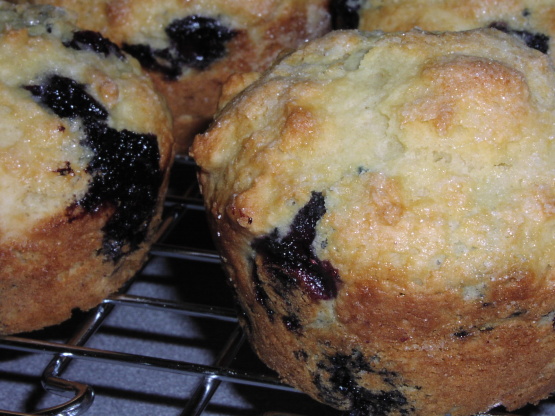 Another recipe from Cooking Light.

This has 3 WW points per muffin. We thought that it had a real baking soda taste. Next time I plan to cut the baking soda down to 1/2 tsp or maybe not use it at all. You could barely taste the orange juice due to the over powering taste of baking soda. The muffins looked great and had a nice texture. I used fresh blueberries and made them as posted. Once I figure out the baking soda problem I plan to replace the blueberries with dried cranberries. Thanks, Stinkerbell for posting.
Preheat oven to 400*F.
Combine flour, 1/3 cup sugar, baking powder, soda, and salt in a large bowl.
Make a well in the center.
Combine orange juice, oil, vanilla, yogurt and egg; add to dry ingredients, stirring just until moist.
Gently fold in blueberries.
Spoon batter into 12 muffin cups that have been coated with cooking spray.
Sprinkle tops with 1 TBS sugar.
Bake for 18 minutes or until a wooden pick inserted in center comes out clean.
Remove from pans and place on wire rack.