Blueberry Yogurt Cake With Lemon Glaze
BB2011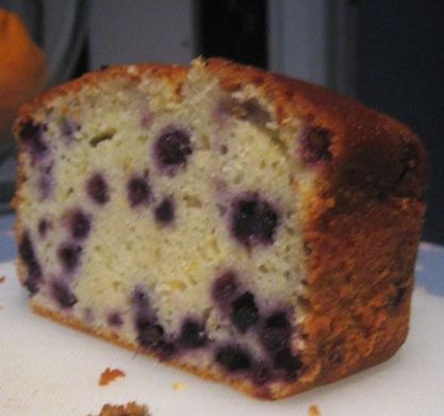 From Vegetarian Times March 2010. If you've ever delighted in one of those big glazed slices of cake sold in the case at coffee shops, you'll love this recipe. Nutrition facts per 1/12 slice: 205 calories, 4g protein, 7g fat (1g saturated), 31g carbs, 36mg cholesterol, 211mg sodium, <1g fiber, 17g sugars.
To make cake: Preheat oven to 350°F Grease and flour 9x5 inch loaf pan.
Sift together 1 cup plus 3 tablespoons flour, cornmeal, baking powder, and salt in bowl.
Beat brown sugar; oil; Cointreau, if using; and vanilla in separate bowl with electric mixer until smooth. Beat in eggs.
Alternately add flour mixture and yogurt to egg mixture until combined.
Toss blueberries with remaining 1 tablespoon flour, and fold into batter. Pour into prepared pan, and bake 70 minutes, or until toothpick inserted in center comes out clean. Cool 10 minutes.
To make glaze: Whisk together all ingredients in small bowl. If not using Cointreau, add 1 tablespoon water.
Unmold cake, and poke top all over with wooden skewer. Brush cake with glaze. Cool completely before serving.