Juju Bee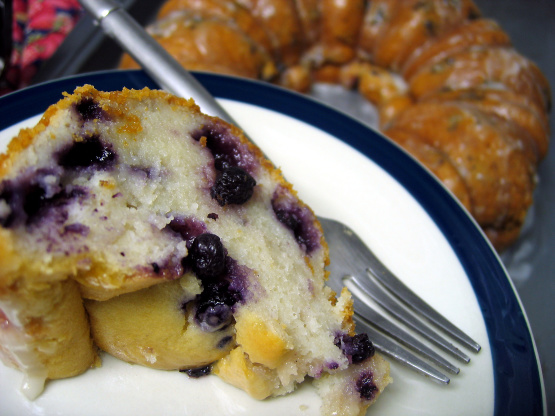 light and healthy, perfect when berries are in season. this is from family circle

Chia.. this recipe is wonderful! I lost my bundt pan somehow :-( and didnt realize it until after I'd tagged this recipe. So instead I made it in a loaf pan. I halved the recipe (which now I wish I hadnt!!!) and its just wonderful. It has a delicious flavor.. unfortunately it doesnt have a cake-like texture on the outside, that I know it would have had .. had I made it in the right pan.. But it is just wonderful. I plan on making it again in the near future with the correct pan. Thanks so much Chia!!!
preheat oven to 350.
grease and flour a bundt pan.
toss berries with 1 tbsp flour.
mix flour, baking powder and salt together, set aside.
in a large bowl beat butter, beat in sugar and vanilla until creamy.
add egg whites, beat in, beat in flour mixture, alternating with yogurt.
fold in berries, pour into bundt pan.
bake for 45-50 minutes until toothpick comes out clean.
cool on wire rack 10 minutes, invert onto wire rack and continue cooling.
when totally cooled stir together glaze ingredients and drizzle over cake.