Karen..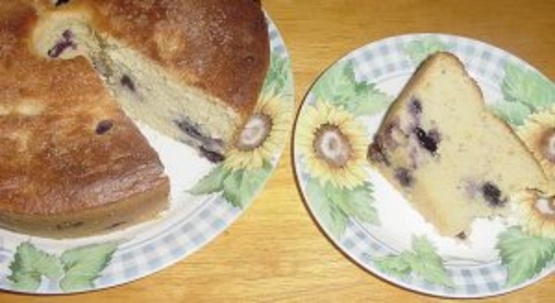 Similar to a classic battery bread, this slightly sweet loaf is wonderful fresh, or toasted with butter and honey. Almost a coffeecake, but not too rich. Raspberries would work, as would a vanilla paste swirl.

Thaks Karen, you did exactly right with the flour. When making any bread humidity as well as other factors (in this case the moisture content of fresh VS frozen blueberries) effects the moisture content of the bread. So this will require more or less flour depending on those things. I am sending in a correction to refelect that. Thanks for pointing that out :)
Whisk together the water and yeast.
Add sugar, salt, eggs, butter, skim milk powder and most of flour.
Stir to make a batter-like mixture.
Fold in blueberries. Add the remaining flour as necessary to form a thick batter. How much if at all will depend on humidity and the amount of moisture in your berries.
Cover bowl with a tea towel and let batter rest 30 minutes.
Meanwhile, generously grease a 9 or 10-inch angel food cake pan.
Pour batter in (after rest).
Cover pan lightly with greased wax paper and let batter rise until it nearly reaches the top of the pan.
Drizzle on melted butter and dust with sugar and cinnamon.
Preheat oven to 350°F.
Place cake pan on a baking sheet and place in oven.
Bake until nicely browned (about 40 minutes).
Cool for 10 minutes before removing from pan and placing on a wire rack to cool completely.