Blueberry Whole-Grain Corn Muffins
NELady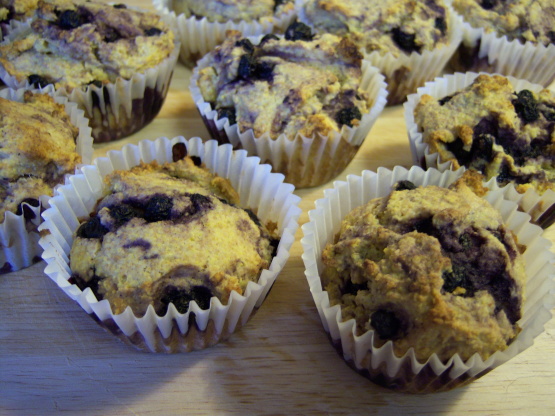 Packed with whole grains, tender and moist, just a bit on the crumbly side, but not overly sweet. From The Baking Sheet, King Arthur's publication. Making these with the white whole wheat flour is best, although you can use whole wheat or even regular flour. When I made these, I sprinkled coarse sugar (or sparkling sugar) on top before baking.

Top Review by NELady
When I was making these muffins, I was a little worried - the dough is much thicker, denser than regular muffin dough (more like the consistency of a chocolate chip cookie dough). I was still unsure about the muffins when I took my first bite - but as I ate my second & third muffin (what a pig, I know) I realized that I REALLY liked these. They are not your typical blueberry muffin - the author is correct in stating that these are not very sweet (though they have a hint with the fruit and honey). I ate mine with a bit of butter and I can't wait to eat more. The recipe made 24 muffins for me rather than the 18 stated - and I filled the muffin tins all the way up as another reviewer wrote that they didn't have much rise. I used Splenda instead of sugar and buttermilk instead of regular milk (accidently grabbed the buttermilk at the supermarket). I also used whole wheat flour (not the white kind) and frozen organic wild blueberries. The texture is more like a cornbread muffin instead of a regular one. Really good. Give these a shot if you're looking for a different, delicious blueberry muffin. Made for Photo Tag.
Preheat oven to 400°F; grease the wells of a muffin tin, or line with paper liners and spry the insides.
In a large bowl, cream together the butter, sugar and salt until fluffy Beat in the honey and the eggs one at a time, stopping to scrape the sides and bottom of the bowl after each addition.
In a separate bowl, whisk together the flour, cornmeal and baking powder. Add the dry ingredients to the butter mixture mixtures in thirds, alternating with the milk; mix until batter is smooth. Gently fold the berries.
Scoop batter by generous half cup into the wells of the prepared pan. Sprinkle the tops with sparkling sugar. Bake for 20 to 25 minutes, until the tops are golden brown and a cake tester inserted in the center comes out clean. Remove the muffins from the oven and cool in the pan for 5 minutes, before removing them from the pan.