Blueberry-Walnut Wheat Germ Muffins
Kiwiwife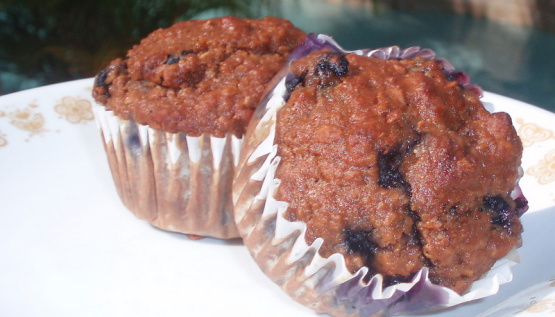 A whole grain, not overly sweet, muffin adapted from Delicious Living Magazine. Also yummy with raspberries.

These muffins were very good, not too sweet and very healthy! I did change a few things. I didnt grind the oatmeal or add the optional flax seeds. Also, instead of the oil I used applesauce. That considered, I would try this again the way it is posted OR bake them for less time. Mine were a bit dry (but I did omit the oil and had a more corse oatmeal!) The flavor was good. I don't care for over sweet muffins and these fit the bill! Thanks for posting!
Preheat oven to 400. In a large bowl, combine dry ingredients (through salt). Stir in walnuts. In a medium bowl, beat together egg, oil, honey, and molasses. Beat in milk and vanilla extract. Add liquid ingredients to dry, stirring just until mixed. Gently fold in blueberries.
Line muffin cups with paper liners, and divide batter among cups. Bake for 18-20 minutes, or until a toothpick inserted into center comes out clean and tops are lightly browned. Remove from oven and let cool for a few minutes before turning out of muffin tin onto a cooking rack.