luci3486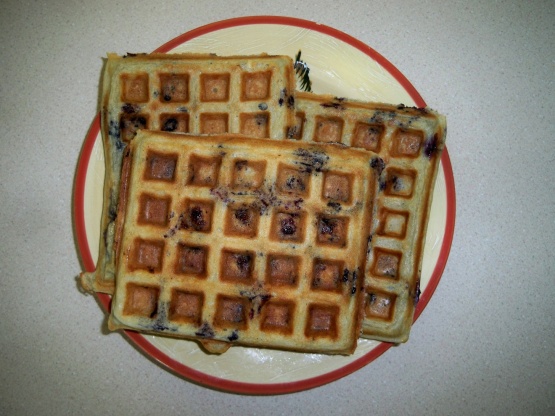 These are my 2 blueberry lovin' guys most favorite waffle. They will even eat them with blueberry syrup! I always double this and if there are any left they go in the freezer. DBF Rick will eat these like a cookie and likes them hot and crispy with a scoop of ice cream on top!

Top Review by riario
I added more than 1 cup of blueberries which was yummy but DH and I think they needed more sugar. Beating the egg whites was too much work for me - for some reason I did it by hand - so I might try another recipe next time.
Preheat the waffle iron.
Beat egg whites til stiff and set aside.
Sift together dry ingredients.
Slowly stir in milk, beaten egg yolks and melted butter.
Fold in blueberries.
Fold in egg whites which were stiffly beaten.
Bake in hot waffle iron.