Blueberry Vinaigrette - Taste of Nova Scotia
Diana 2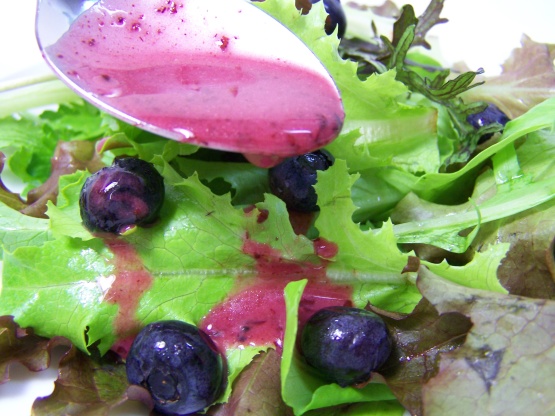 Quick to put together, and extremely tasty. This delightful recipe was compliments of Taste of Nova Scotia and was created by Sean Laceby of the Blomidon Inn in Wolfville. My good friend Gail has also made this with strawberries as well as peaches (her favourite). This is one quarter of the original recipe, which was listed as serving 4 - 8. As Gail mentions, this would only apply if you planned to serve it as a beverage. ;) If you have issues with small seeds, it would be a good idea to strain before bottling. I don't know how long it keeps, but I would think you'd be safe if used within a week. I'm still breathing, so I guess that's a good indicator.

I used champagne vinegar and avocado oil in the recipe and it was great. I put it in my Vitamix and it stayed emulsified for hours and hours! I made this dressing to go with a salad I once had in an Italian restaurant in Germany and wanted to recreate. In the salad were: arugula, toasted pine nuts, pieces of cantaloupe, prosciutto, fresh blueberries, shaved parmigiano reggiano and avocado with blueberry vinaigrette. I took it to a party tonight and it was gone in minutes. I did have a chance to eat some myself and it was delicious.
In a blender or food processor, combine all ingredients.
Blend until well combined and smooth.
Refrigerate until ready to serve.