Blueberry Upside Down Cake -- Pouding Aux Bleuets
PanNan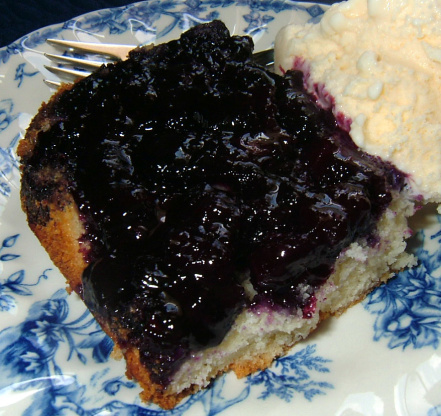 The English influence on Quebec cuisine can be seen in the name of this recipe. "Pouding" comes from the English word pudding, but Quebec poudings are baked rather than steamed and so they resemble cakes more than English puddings. Posted for Zaar World Tour II.

*Made for Australia/NZ Swap #66* FAST and easy !! I used frozen berries and followed directions. Since I was using the oven for casserole later, baked about 4 PM, and let sit in the pan til serving. I think that allowed the juices to absorb into the cake, making it not very juicy as it would have been warm. Found the whipped cream was gone (SHOCK), so topped with butter crunch ice cream. DH ate TWO large bowls, and we had the rest for breakfast ! Thanks for posting, Bethie -- will be doing this frequently !!
Preheat oven to 350°F.
Butter an 8-inch square pan.
In a mixing bowl, toss the blueberries with 1/4-cup of the sugar and the lemon rind. Pour the blueberries into the buttered pan.
In another bowl, beat the shortening and sugar together until fluffy.
Beat in the egg and vanilla.
In another bowl, stir the flour, baking powder and salt together.
Stir the flour mixture into the shortening mixture, alternating with the milk. The batter should be smooth.
Spoon the batter over the blueberries and place the cake into preheated oven. Bake for about 40 minutes.
To serve: Let the cake cool slightly. Turn it out onto the serving plate. Serve with plain or with whipped cream or ice cream.