Blueberry-stuffed Mini-Muffins
Ms B.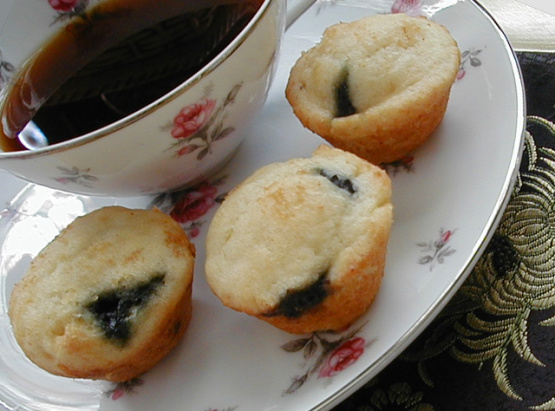 These are wonderful--I usually make tons of them and then freeze them for later use! They are quite healthy, thanks to the ricotta cheese :-)

These were heavenly warm from the oven. I replaced 1 cup of the all purpose flour with whole wheat pastry flour and used 2 whole eggs rather than waste the yolk. I also used regular sized muffin pans, which yielded 16 muffins. Excellent recipe. Thank you.
Preheat oven to 400°F.
Combine flour, sugar, baking powder, baking soda and salt in a large bowl.
In a separate bowl, combine buttermilk, milk, ricotta, vanilla extract, almond extract, eggs and oil.
Add wet ingredients to dry ingredients.
Stir gently until just combined.
Mixture will be slightly lumpy.
Spray 3 mini muffin tins (36 muffin cups total) with cooking spray.
Fill each cup 1/3 full with muffin mixture.
Add 1/2 teaspoon blueberry preserves to each muffin cup, and top with remaining batter.
Bake for 10 to 12 minutes or until done.
Stand for 5 minutes.
Remove muffins to a wire rack to cool.