Blueberry Streusel Muffins
awalde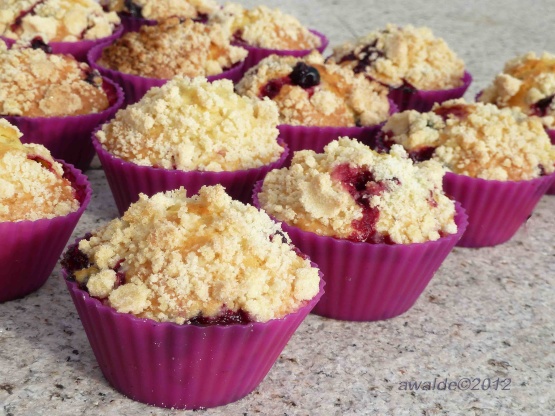 I found these muffins in a book by the Australian Women's Weekly and made them for my Dad's birthday this year. The original recipe called for blackberries but I used blueberries instead. I'm sure they will be yummy with other berries as well. I also cut back on the sugar and butter used in the original and they still were very rich. Yum! Note: the cup measurements are based on the use of an Australian cup of 250 ml.

Top Review by awalde
Hi Loula,
my daughter prepared and phototgraphed these muffins for us.
She told us that added 2 tablespoon more sugar and she used black current from the garden.
She used our new silicon muffins mold (great I can really recommend them!) and they came out perfect in taste, look and they were really irresistible.
We love your muffins, your are really a great chef! Thanks for posting your recipes!
In a large bowl combine flour, baking powder, salt and sugar.
In another bowl mix egg, oil and milk.
Add wet ingredients to dry ones and mix only until just combined.
Fold in apple and blueberries.
Fill dough into prepared muffin tins (you may either grease the tins or line them with paper cups). Make sure not to fill them to the top because you will need some space for the streusel.
In a third bowl combine the ingredients for the streusel topping by hand. When your crumbs have reached the desired size (the longer you mix, the smaller the crumbs), sprinkle them over the muffins.
Bake at 180°C/350F in the preheated oven for about 20 minutes or until a toothpick inserted in the center comes out clean.