Blueberry Streusel Muffins
Petunia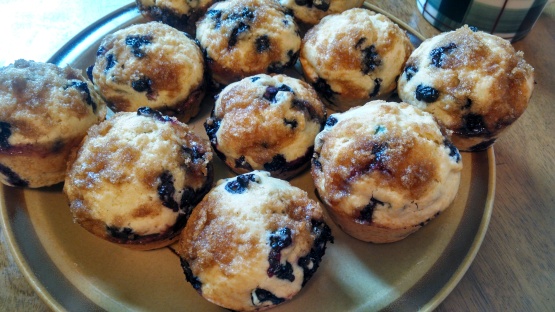 This recipe is Diner style. A real yummy fresh tasty muffin! 8)

I love these muffins. I made a batch Sunday morning and have frozen the rest. I reheated one this morning and they tasted just like they were fresh out of the oven. I agree with dahlia in filling the muffin cups quite full. My muffins came out very big and "bakery" style. I am going to throw out my other blueberry muffin recipe because I like this one a lot better.
Heat oven to 400 degrees.
Grease bottoms only of 12 medium muffin cups, 2-1/2 X 1-1/4 inches, or paper lined cups.
Beat the milk, oil, vanilla extract and egg.
Stir in the flour, sugar, baking powder & salt all at once until flour is moist (should be lumpy). Add the blueberries, combine and divide batter evenly among muffin cups.
Sprinkle each using about 2 tsp of the prepared topping.
Bake 20-25 minutes or until golden brown.
Remove from pan right away.