Blueberry Streusel Coffee Cake
Prep 20 mins
Cook 50 mins
This coffee cake had my coworkers swooning! It's tender, buttery, and very delicious. Don't substitute margarine -- it's just not the same. The recipe doubles nicely for a 9x13-inch pan.
Directions
Combine the blueberries and 2 T flour; toss gently and set aside.
Combine 1/2 cup butter, 2 cups flour, 2 tsp baking powder, 1/4 tsp salt, 1 cup sugar, and 3/4 cup milk in a large bowl.
Beat 2 minutes at medium speed with an electric mixer.
Add egg; beat one minute.
Fold in blueberries.
Spread batter evenly in a greased and floured 9-inch square pan.
Mix 1/2 cup sugar, 1/3 cup flour, and 1/2 tsp cinnamon in a bowl; cut int 1/4 cup butter until mixture resembles coarse meal.
Spread this mixture over the batter.
Bake at 350°F for 50 minutes.
Most Helpful
Sorry this didn't go over too well, it turned out very heavy. Probably because my hand mixer could not handle it, There was no way i could beat the batter for 2 minutes dumping all the ingredients mentioned at once, it turned into a thick gluey mass which ran up the mixer beaters and slowed down and almost stopped the mixer. Even adding the eggs did not help. I think if the butter, flour, baking powder, salt, sugar and milk were added separately it probably would have worked. I definately was not done in the 50 minutes, it was still raw in the middle, I baked it about 80 minutes, it was still heavy and under done. We did try to eat it but it was just too heavy. Sorry but I wouldn't make it again. Perhaps others have bigger and better electric mixers.

This was SO good -- especially still fresh and warm from the oven! Made a double recipe using frozen saskatoons and had to bake an extra 15 minutes or so, but it was wonderful!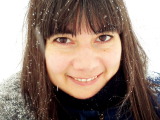 Absolutely scrumptious! Made two for the church blueberry bake sale and two for home consumption to raves of delight from everyone. Thank you for sharing this best ever recipe.