Blueberry Streusel Coffee Cake
Derf2440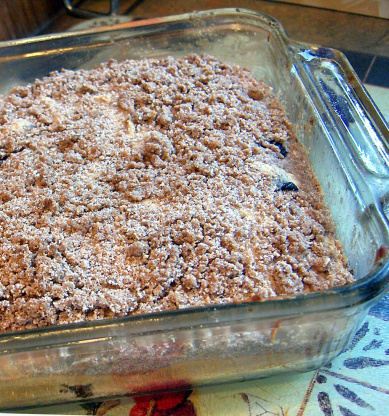 This coffee cake had my coworkers swooning! It's tender, buttery, and very delicious. Don't substitute margarine -- it's just not the same. The recipe doubles nicely for a 9x13-inch pan.

Sorry this didn't go over too well, it turned out very heavy. Probably because my hand mixer could not handle it, There was no way i could beat the batter for 2 minutes dumping all the ingredients mentioned at once, it turned into a thick gluey mass which ran up the mixer beaters and slowed down and almost stopped the mixer. Even adding the eggs did not help. I think if the butter, flour, baking powder, salt, sugar and milk were added separately it probably would have worked. I definately was not done in the 50 minutes, it was still raw in the middle, I baked it about 80 minutes, it was still heavy and under done. We did try to eat it but it was just too heavy. Sorry but I wouldn't make it again. Perhaps others have bigger and better electric mixers.
Combine the blueberries and 2 T flour; toss gently and set aside.
Combine 1/2 cup butter, 2 cups flour, 2 tsp baking powder, 1/4 tsp salt, 1 cup sugar, and 3/4 cup milk in a large bowl.
Beat 2 minutes at medium speed with an electric mixer.
Add egg; beat one minute.
Fold in blueberries.
Spread batter evenly in a greased and floured 9-inch square pan.
Mix 1/2 cup sugar, 1/3 cup flour, and 1/2 tsp cinnamon in a bowl; cut int 1/4 cup butter until mixture resembles coarse meal.
Spread this mixture over the batter.
Bake at 350°F for 50-65 minutes (reading the reviews and from my own exprience, I believe this requires an extra 15 minutes).