Blueberry-Sour Cream Pancakes
Boomette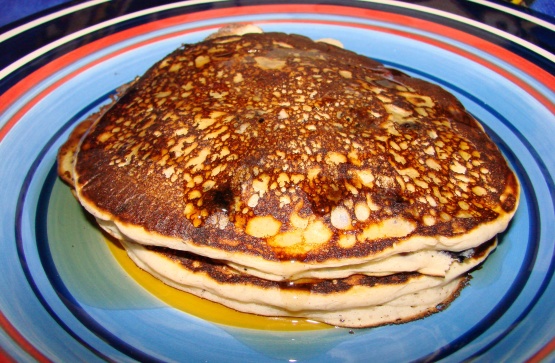 These pancakes are so good!

This was Sunday brunch today. I used fat free sour cream and frozen berries (still frozen), cut the salt in half and used skim milk. They came out perfect. I wonder if the texture difference might be in the cooking heat used? For pancakes I always use the electric griddle set on 350. These were a delight as we had brunch while enjoying the bright Spring sunlight trying to melt more snow.
Stir flour, baking soda, salt, brown sugar, nutmeg and cinnamon together thoroughly.
In a separate bowl, combine egg, sour cream, milk; add to the dry ingredients, stirring just enough to moisten. Carefully add blueberries, stirring gently to mix.
Drop batter by the 1/4 cupfuls onto a hot greased griddle.
Cook until the surface is covered with bubbles; flip and cook until done.