Rita~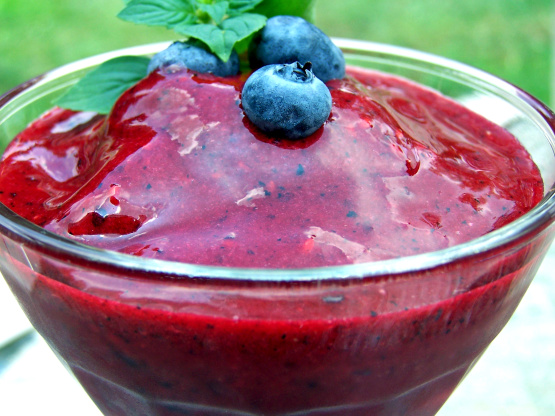 After doing a thorough search for the perfect blueberry sorbet recipe, I discovered this one by Emeril Lagasse. Simple and perfect. I hope you enjoy it! (**Cooking time is approximate cooling and freezing time)
The flavor of this sorbet was really good, but it was SOOOO SWEET. I think next time I'll cut the sugar a bit. I served this semi hard over the top of vanilla ice cream instead of just eating it by itself and it was really great.
Make a simple syrup combining sugar and water in heavy saucepan; bring to a boil over high heat; reduce to medium-low heat and simmer, stirring until sugar has dissolved (6-8 minutes)-(** This step can be made ahead and kept refrigerated until ready to use).
Cool completely.
Combine blueberries, simple syrup and juice from 2 fresh lemons in food processor.
Puree until smooth.
Transfer puree to ice cream maker freeze according to manufacturer's instructions.
Put into freezable container and place in freezer until firm.
Makes 1 quart.