Ms B.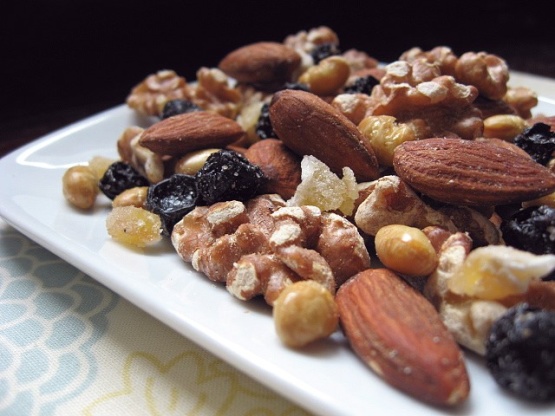 This is very good and easy too! Feel free to use different nuts or dried fruit. Adapted from Vegetarian Times magazine. Posted for the World Tour-New England, Mid Atlantic, Mid West, Canadian and also Asian.

Top Review by Ms B.
Great blend of flavors. The crystallized ginger really pops the flavor and the roasted soybeans add just the right amount of saltiness. Hubby isn't a raisin fan, but gobbled up these dried blueberries. I baggied it all up for him to snack on during his long days in the field instead of his usual chips and candy snack foods.
Preheat the oven to 350*F.
Spread the almonds and walnuts on a baking sheet. Bake 6 minutes, stir, and bake 4 minutes longer.
When it's cool enough to handle, cut almonds in half crosswise.
In a bowl, combine toasted nuts, soy nuts, blueberries and ginger. Enjoy!