Directions
Place all ingredints in blender an pluse until smooth.
Smoothie will be very thick.
If you like sweeter smoothies add 1-3 tbls. of honey.
Most Helpful
Absolutely delicious! I used peach yogurt and soy milk, so I didn't really need extra sweetener. Can't wait to try this with some other flavors!
This smoothie has a wonderful taste. I love the addition of the peaches. I used low-fat banana/strawberry yogurt because that is what I had on hand. The frozen blueberries makes it nice and thick and really cold! My husband wanted it a little more sweet, so next time I will follow your suggestion of adding some honey. Thanks for posting this yummy recipe, Lacy!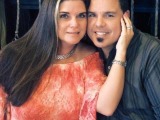 This is really wonderful treat! I added honey to make it sweeter and used a little bit more milk to make it a tad less thick. There was enough for two small servings and my hubby and I enjoyed it for quick and delicious breakfast. I will make it again. Thank you Lacy!