Blueberry-Pineapple Pina Colada Pie
GEHanna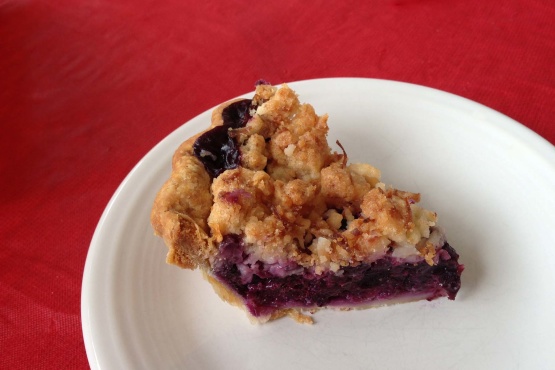 A suggested dessert for a tropical island theme or Jimmy Buffet night.

I just placed at the State Fair with this recipe!!! <br/><br/>Every time I make it, it's different. I try to cut back on the fresh blueberries a bit and add more of the pineapple (so one pint of blueberries, and ~1.5 cups of pineapple). There seems to be too much liquid, too, so I added an extra tablespoon of corn starch (also, make sure that pineapple's good and drained!) One time I added the corn starch AND added an extra tablespoon of rum (so there were two tablespoons total), and there wasn't any difference. I would stick with one T. of rum.<br/><br/>Also, I never cut my butter into the coconut crumbs when the butter's cold. I don't use a food processor, and cutting cold butter is hard! Honestly, I heat my butter up so it's half melted and it turns out just fine.<br/><br/>Great summery treat! Per the comment of a previous reviewer, I dubbed this recipe my "Parrothead Pie", and it's good enough to show off--I have a ribbon to show for it!
Roll out and fit pastry into a 9-inch pie pan; sculpt the edge into an upstanding ridge; place in freezer for 15 minutes.
Preheat oven to 400°.
In a bowl, combine the blueberries, pineapple, and pina colada concentrate in a large bowl.
In a small bowl, mix the sugar and cornstarch together in a small bowl, then stir the mixture into the fruit.
Stir in the rum, coconut extract, and salt; scrape the filling into the chilled pie shell; smooth the top with a spoon.
Place the pie on the center oven rack and bake for 30 minutes.
Meanwhile, make coconut crumb topping: add flour, coconut, sugar, and salt to a food processor; pulse briefly to mix.
Scatter the butter over the top and pulse until the mixture starts to form gravelly crumbs.
Dump the crumbs into a large bowl and rub between your fingers to form large, buttery crumbs; refrigerate until ready to use.
Remove pie from oven and decrease temperature to 375°; carefully dump the crumbs in the center of the pie, spreading them evenly over the surface; tamp them down lightly.
Return pie to oven, rotate 180°; slide a large foil lined baking sheet onto the rack below to catch any spills.
Continue baking about 30 minutes until juices bubble thickly around the edge.
If top starts to get too brown, cover loosely with foil for the last 15 minutes.
Transfer pie to a wire rack; let cool for at least 1 hour before serving.