emeyer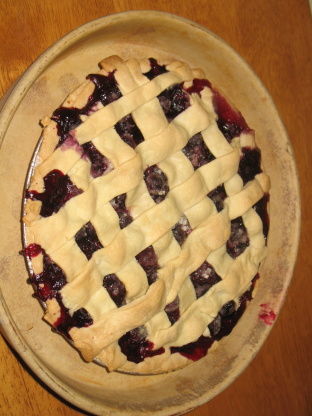 very simple recipe from the foodnet work website. i found it a bit sweet, and cut down the sugar to 3/4 cup.

Super good! The filling was enough for 2 "regular" pie crusts or 1 deep dish. I cut back a bit on the sugar, too. This was just PERFECT served warm with vanilla bean ice cream. Thanks for the great recipe! It was a perfect way for me to use fresh blueberries and a fresh lemon. :)
Preheat oven to 350 degrees. Unfold first pie crust and press into pie dish. Place blueberries in strainer and rinse. Drain berries and add to large bowl. Add flour and toss to coat. Add sugar, a squeeze of lemon and a dash of salt. Pour berries into pie shell. Cut other pie crust into 1 '' strips. Place strips on top of crust in criss-cross pattern to form a lattice. Bake for 45 - 60 minutes or until bubbly. Serve.