Blueberry Peach Streusel Cake
Katzen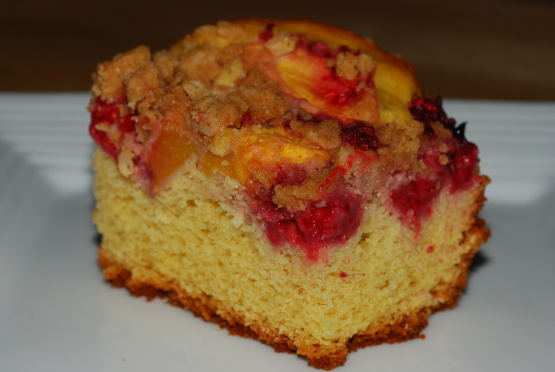 This is so good I make it in 2 pans so I don't eat it all. One to keep and one to bring to share.

This cake reminded me of a big muffin, we really enjoyed the mix of peaches and berries on top. I used slivered almonds in the streusel which turned out very tasty and crunchy. The only problem was that the areas of cake without fruit was very dry.
Preheat oven to 350 degrees.
grease and flour 2 8x8x15/8 foil pans.
In a food processor pulse ingredients for topping (use 1/4 c cake mix) pulse quickly till crumbly.
Remove and set aside.
In food processor add Batter ingredients and rest of cake mix pulsing till well combined.
Set aside.
Mix blueberries, peaches,and flour.
Set aside.
Pour batter into prepared pans topping with fruit mixture pressing in gentle.
Then top with Strusel.
Splitting everything equaly between each pan.
Bake for 40-45 minutes.
Cool and keep one for yourself and bring the other to a picnic.