loof751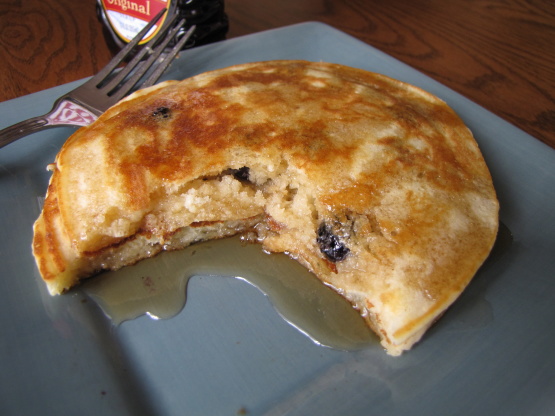 This will forever be my 'go to' recipe for pancakes. I will commit it to memory so that in the God-forbidden event I lose all of my recipes, I will still be able to make the best pancakes in the world! These are light and ridiculously fluffy. Giant, thick pancakes - PERFECT! The flavor is mild - just right to balance a little bit of syrup. A touch of cinnamon is the perfect compliment to the blueberries. I would serve these to Chef Gordon Ramsey himself! (Course I would top them with my Orange Cream first) So worth whatever effort [love] you put into them! I got 4 six-inch pancakes and 4 four-inch pancakes out of the batter - but they were 1/2 inch thick. Mmmmmm.
Whisk flour, sugar, baking powder, baking soda, and salt in medium bowl to combine.
Whisk egg and melted butter into milk until combined.
Make well in center of dry ingredients in bowl; pour in milk mixture and whisk very gently until just combined (a few lumps should remain). Do not over mix.
Heat 12-inch nonstick skillet over medium heat for 3 to 5 minutes; add 1 teaspoon oil and brush to coat skillet bottom evenly.
Pour 1/4 cup batter on skillet; sprinkle 1 tablespoon blueberries over pancake.
Cook pancakes until large bubbles begin to appear, 1 1/2 to 2 minutes then flip. Cook until golden brown.
Serve immediately, and repeat with remaining batter, using remaining vegetable oil only if necessary.