Rachchow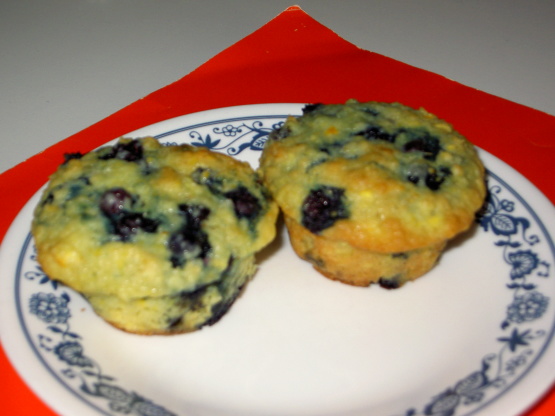 These are the best blueberry muffins ever!This is my grandmother's recipe, loaded with blueberries and so moist. Everyone always loves them!

These were okay. Very moist, but it tasted way too much like orange peel. Would probably be better using the peel of only one of the oranges. Maybe I'll try again with less peel.
Preheat oven to 375°F
Lightly grease muffin cups or spray with cooking spray.
Place orange pieces in blender and blend until finely chopped.
Add margarine, eggs, and milk and blend until well mixed.
Combine flour, sugar, baking powder, and baking soda in a large bowl.
Make a well in center and add orange mixture, stirring just until moistened.
Fold in blueberries.
Fill muffin cups and bake for 22-25 minutes or until golden.
Cool 10 minutes in pan before removing.