Blueberry Oatmeal Muffins
LCinLA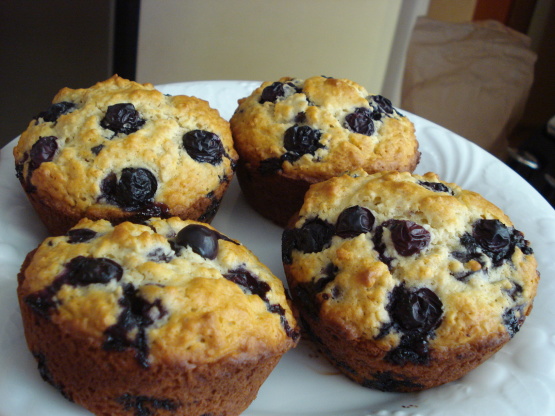 I got this recipe from the blueberry u-pick it farm that we go to every summer. There's nothing like a fresh blueberry muffin.

Nummy Blueberry muffins, made these for breakfast, by lunchtime they were gone!! The topping was particulary nice, thanks for sharing!! will be doing these again.
Preheat oven to 425 degrees.
Combine oats, flour, 1/3 C sugar, baking powder and salt in a bowl.
In another bowl, combine milk, egg and oil.
Add liquid ingredients to the dry ingredients, mix until moist only.
DO NOT BEAT!
Fold in blueberries.
Fill greased muffin cups 2/3 full.
Mix topping ingredients.
Sprinkle over muffin batter.
Bake 20- 25 minutes.
Serve warm.