Blueberry Oatmeal Breakfast Cake
Redsie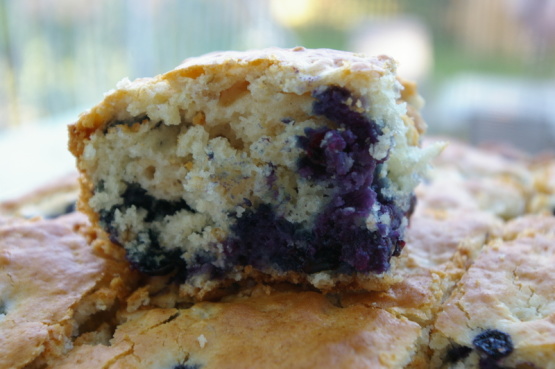 Got this one from my mom. I haven't tried it yet but will this summer. Posted for safe-keeping. From Gooseberry Patch Hometown Favorites.

Very good. I used a whole pint of blueberries and baked this in a loaf pan for about 50 minutes. I skipped the glaze since I like my breakfast foods less sweet. I've learned from past experiences that in the summer my house gets so warm that berries in breads and muffins will start to ferment and get a funky taste... so I cut the loaf in half and froze half and stored the other in the fridge with very good results.
Add the flour, oats, baking powder, salt, egg, sugar, 3/4 cup milk, and oil to a mixing bowl; stir to mix.
Fold in the blueberries.
Spread batter into lightly greased 8x8 inch baking pan.
Bake in a 400° oven for 20-25 minutes or until pick comes out clean.
In a small bowl, mix together the powdered sugar, almond extract, and 3 teaspoons milk.
Pour/drizzle over warm cake; serve.