Derf2440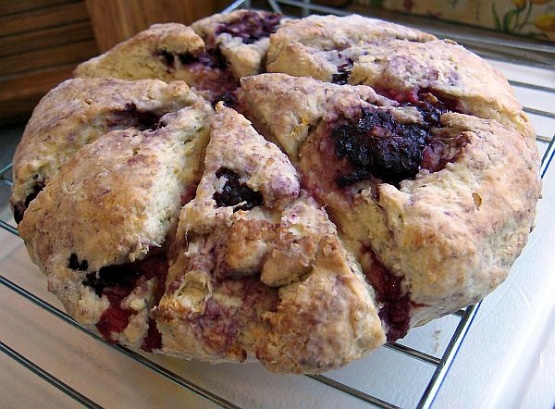 These scones really are a wonderful treat, Ocean Ivy!!! I'm still trying to use up our frozen berries from last year, this filled the bill perfectly!! I froze 8 of the scones and we ate two for dessert. I made a blueberry sauce and we put it on top of the sliced open scone. Mmmm Nymmmy!! Kinda like blueberry shortcake!! I will be making these again for keeping in the freezer. Thanks for sharing!! — Jul 25, 2002, 2 members found this helpfulUPDATE: Have been making these quite regularly, they are delicious, made them this morning for breakfast, a nice treat, we had them with a little marmalade which really brings out the orange in them. Have to admit I used 1 full cup of berries and I don't bother putting the butter and sugar on top, it dosen't need it with all the berries. MMMMMM melt in your mouth goodness!! — May 28, 2005, 5 members found this helpful me again!! sooo good did them for breakfast for guests, everyone loved them, thanks again!
Preheat oven 375.
Grease cookie sheet.
Combine the flour,oats,sugar,baking powder salt& nutmeg.
mixing well.
Cut in the butter until mixture is crumbly.
In a small mixing bowl,beat the egg slightly,beat in orange juice& peel.
Add the egg mixture to the flour mixture,and stir just enough to blend.
Stir in berries.
Knead into a small ball.
Put onto a cookie sheet,& with floured hands,& press into a 8 inch circle.
Cut into 10 wedges.
Do not separate,then brush the top of the dough with melted butter.
Sprinkle with sugar.
Bake 20-25 minutes or until golden.