Blueberry Oat Bran Muffins
Julie G.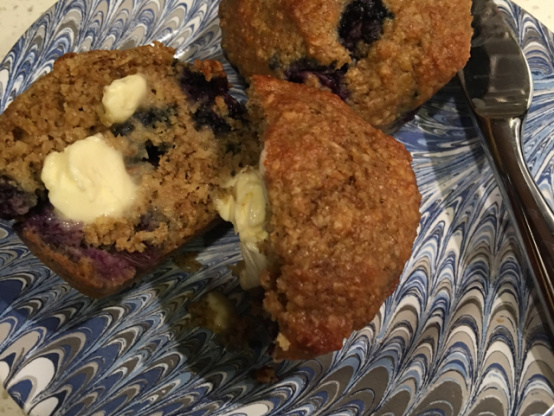 This another wonderful recipe I got from a wonderful author/teacher in Vancouver, Susan Mendalson, who owns Lazy Gourmet

Really good muffins! I added an extra quarter cup of brown sugar after another review that said not quite sweet enough. Used lime rind - had no lemons. Used vanilla yogurt as another had done - didn't have buttermilk. Added a tsp of vanilla. And not quite enough blueberries, so I chopped a few cherries and threw them in. Such a forgiving recipe!!! Thank you. Finally I've found a healthy recipe that is moist and flavorful and fun to eat. Hadn't been having a lot of luck.
Combine whole wheat flour, oat bran, wheat germ, brown sugar, lemon rind, baking powder, baking soda and salt in a large bowl. Mix well.
In a measuring cup, combine eggs, buttermilk, vegetable oil and blueberries.
Add batter to muffin cups and bake in a 400 oven for 20 minutes.