Blueberry Muffins à La Alton Brown (Good Eats on Food Net
Deb G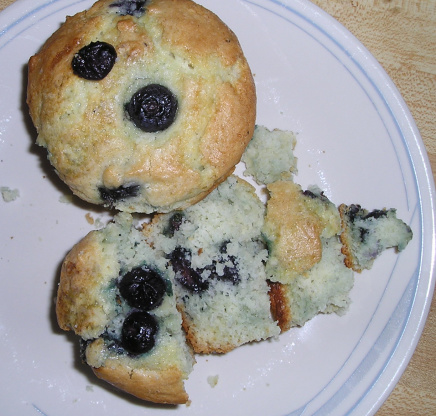 We tried this recipe because I was craving having blueberry streusel scones (# 244646) again. However, I am trying to cut down on my saturated fat and cholesterol, so we looked for something to fill that baked goods craving without blowing my daily saturated fat limit, and Alton Brown is often a decent place to start. We used whole wheat pastry flour with some flax meal thrown in for good measure, frozen blueberries allowed to thaw slightly, and a silicon muffin tin. They were somehow dense and light at the same time, and had an interesting buttermilk note (we assume from the yogurt). Also, Alton says muffins are really more like pancakes than cupcakes!

Top Review by Deb G
These are a hit---DH is asking for them to be made again before we eat all of these! I used 3 cups of cake flour (I don't have a scale), and I set the oven at 350F, thinking 380F was a mistake. I have checked the recipe on Food Network, and the 380 is correct! Mine turned out great anyway, and we will definitely have these again and again. Thanks for posting. Reviewed and photographed for Food Network Challenge: HAIL TO THE CHEFS!
Preheat oven to 380 degrees F.
Whisk together "wet" ingredients: sugar, oil, egg and yogurt.
Sift together "dry" ingredients: flour, baking soda, baking powder, and salt.
Toss blueberries with 1 T. of dry mix.
Add wet ingredients to the remaining dry ingredients.
Stir mixture for a count of 10. (Do not overstir.).
Add 1 cup blueberries to batter and stir 3 times. (Do not overstir.).
Spray or line muffin tins and add batter (e.g. with #20 scoop).
Press remaining berries lightly into tops of muffins.
Put in oven and raise temp to 400.
Bake 20 to 25 minutes; rotate at midpoint.
Remove and invert onto towel to cool.