Blueberry Muffins from the Loveless Cafe
lazyme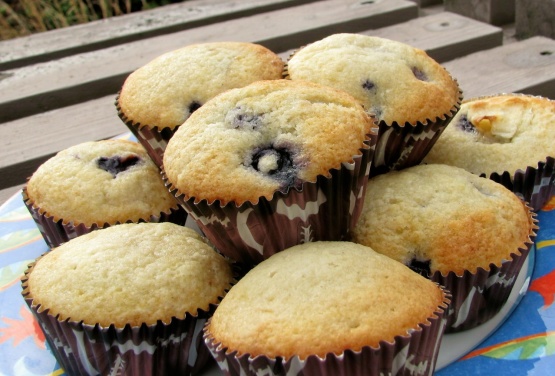 This recipe is from the Loveless Cafe, just outside Nashville, TN. It's great for when blueberries are in season!

These were very good muffins. I didn't add the sugar on top but wish I would have...it would have been a nice touch. I made exactly as posted and they were pretty easy to make. They weren't overly sweet but it was nice. Thanks for posting!! Made for 1-2-3 Hit Wonders Tag.
Preheat the oven to 375 degrees.
Whisk the butter, sugar, salt, eggs, and vanilla together in a bowl.
Sift the flour and baking powder into the butter mixture. Stir.
Add the berries to the mix and gently fold a few times.
Add the buttermilk and mix gently.
Scoop out the dought into paper-lined muffin pans. Sprinkle with additional sugar if desired, and bake for 20 to 35 minutes, depending on the size of your muffin pans. This will make 12 standard sized muffins or 6 Texas sized muffins.