Bayhill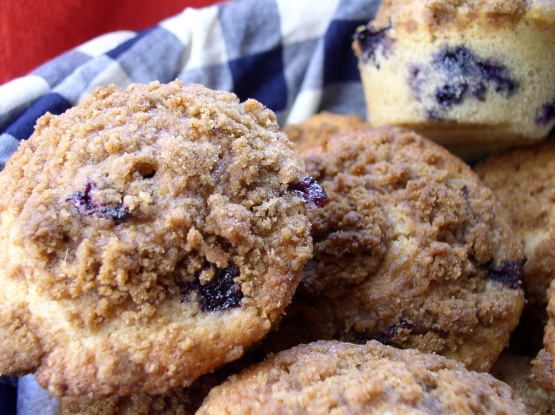 This is a recently adopted recipe of mine. My DS loves blueberry muffins so I had to adopt these for him. I reduced the amount of topping as well as amount of butter in the batter. These remind me of bakery style muffins.

I followed the recipe less a little topping and made 12 standard muffins instead of 8 large. Also, for buttermilk, I used the homemade yogurt. Reduced baking time to approx 22 min and sprayed the muffin pan with coconut oil cooking spray. Released beautifully. Used the smaller frozen wild blueberries. Muffins are a little chewy (I might have over mixed), but absolutely delicious (I don't like overly sweet deserts).
To make the crumble topping, in a medium bowl, combine the flour, cinnamon, and brown sugar.
Add the butter pieces and cut into the sugar mixture with a pastry blender until the topping is crumbly; set aside.
To make the blueberry muffins, preheat the oven to 350 degrees F.
Generously butter or grease six 8-ounce jumbo muffin cups.
If using fresh blueberries, rinse and thoroughly dry the berries.
In a small bowl, toss the fresh or frozen berries with the 1 tablespoon flour.
In a large bowl, stir together the 2 cups flour, sugar, baking powder, baking soda, cinnamon, and salt; make a well in the center.
In a medium bowl, whisk together the egg and 1 cup of the buttermilk until combined.
Whisk in the vanilla and melted butter.
Pour the buttermilk mixture into the well.
Begin stirring the liquids, gradually drawing the dry ingredients into the well until they are almost, but not quite, combined.
If mixture is to thick, add the additional 1/4 cup of buttermilk and gently mix.
Add the blueberries and fold in just to distribute evenly taking care not to overmix.
Evenly divide the crumble topping among the muffins, sprinkling it on top.
Bake the muffins for 30 to 35 minutes, or until a toothpick inserted into the center of a muffin comes out clean.
Cool in the pan on a wire rack for 10 minutes, then carefully turn out onto the rack.
Serve warm, or cool completely.
Store in an airtight container at room temperature for up to 2 days.