elainegl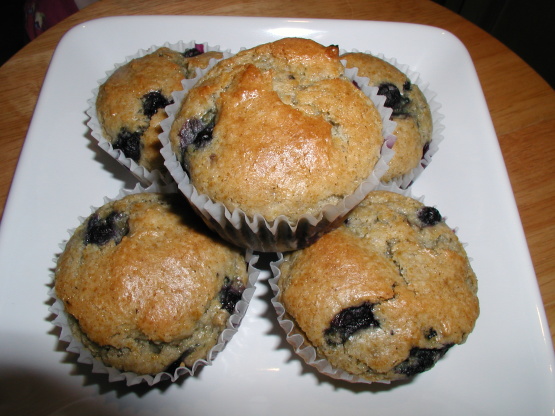 I spent a long time trying to find a blueberry muffin mix that had the right blend of spices, and was neither to heavy or to dry in texture (just like the wheat filled bakery versions). After some experimenting I ended up with this recipe which I think is the best I've tasted yet.

These muffins are delicious! The only thing I changed, since I didn't have fresh lemons on hand, was to use 1/4-1/2 tsp lemon extract instead of the lemon peel. I did have to add a little extra oil and milk and it took 25-30 minutes to cook. They have such a great flavor though! Thanks for a great recipe!
Preheat oven to 350°F; grease standard muffin tin.
In a medium mixing bowl combine, flour, xantham gum, sugar, salt, baking powder, and cinnamon. Make a well in the center of the flour mix and add lemon peel, milk, oil, and egg. Blend throughly with fork until smooth, then fold in berries (be careful not to over mix).
If batter is to thick add equal amounts of oil and milk till right consistency is obtained.
Place batter into prepared muffin tin.
Bake for 20-25 minuets or until a toothpick inserted in the center comes out clean with a few crumbs on it. Cool muffins for 5 minuets in tin before removing to wire rack to cool. Serve warm or cold.
For fresh muffins every day, line muffin tin with cupcake holders and spoon in batter them. Place muffin tin in freezer. When batter is frozen remove from tin and place in sealed container in freezer. Now when you need a fresh muffin just pop a frozen one in the oven and presto. Breakfast!