Annacia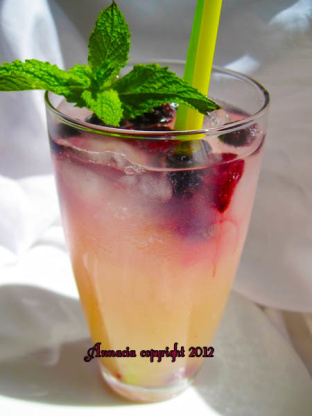 From a blueberry site, perfect for summer!

Mmmmmmmmm, sweet tart and minty. Win, win, win recipe. When I opened the freezer container that had the blueberries in it, just imagine my surprise upon seeing frozen burger patties! Next best option was picking the blueberries out of the mixed, of course, 2 blackberries and a raspberry stuck to my fingers. It's all good though and this a sooooo good I think I'll be making it all summer. :D
Combine sugar, water and mint leaves in a small saucepan.
Bring to a simmer and stir until sugar dissolves to make a syrup. Remove from heat and let cool.
Strain mint syrup into a tall pitcher. Stir in lemon juice and water.
Fill 4 tall glasses with ice cubes and top with one-fourth of the blueberries.
Add mint lemonade and top with seltzer water, if desired.