Jostlori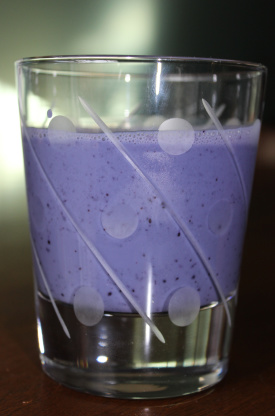 In Finland, they eat lots of berries, blueberries being one of their favorites. I have made this vegan by using non dairy milk, but in Finland they use fresh cow's milk. Adapted from Gimme Some Oven.

I love this recipe! My kids are always asking for those flavored milk powders (where they got the idea I'll never know!), and I am always meanie mom for not being willing to buy them because they are (IMHO) full of yucky stuff. Imagine their excitement, then, when mom made them blueberry milk this morning! DD was especially excited since the milk turned out her favorite color (purple) :). Thanks so much for posting; I am excited to make this with other berries and finally be rid of the requests for the powder! Made for ZWT 9, Gourmet Goddesses.
In a small saucepan, heat blueberries, sugar and water over medium high heat until boiling. Reduce heat to medium-low, and let simmer for 10-15 minutes to reduce until it is thickens slightly and makes a syrup. Remove from heat and strain through a fine-mesh strainer if desired. Refrigerate.
Whisk together 1/4 cup blueberry syrup with 1 cup cold milk to serve.
This recipe will also work with strawberries, blackberries, lingonberries, and cherries.