Katlin44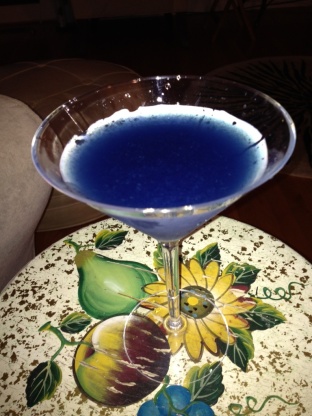 Recipe is from the Complete Home Bartender's Guide

I had the biggest most beautiful blueberries and didn't want them to go bad prior to using them, and decided to see if I could find a really good Blueberry Martini recipe... and I did!

This recipe is wonderful if you are a true Martini lover. Do yourself a favor, and don't make this recipe if you don't have all of the ingredients it calls for, ie; fresh blueberries, real lemon, etc. as they make all the difference.

The end product is a wonderful martini that is a beautiful sapphire blue, I call this drink my "Blueberry Sapphire Martini" it's delish, Enjoy!
Cut the blueberries in half and place them in the shaker.
Quickly muddle the berries.
Add the remaining ingredients and fill shaker with ice.
Shake vigorously to bombard the blueberries with the ice to release their flavor and color.
Strain through a sieve into the cocktail glass.
Place four or five blueberries on cocktail stick across the glass.