Rita1652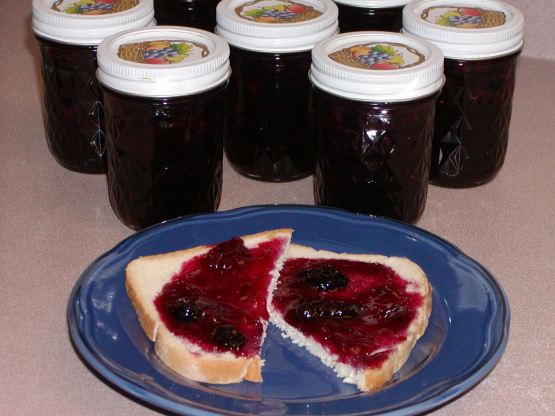 A lovely way to use blueberries! From Woman's Day Encyclopedia of Cooking.

Just made this this morning. It is WONDERFUL though a little thin thus the 4 stars. I know things can set up later but sometimes you can just tell when something is going to stay thin. But the taste is fantastic and it's still spreadable, just a bit drippy. The citrus and the Blueberries are a great taste together. Flavors like this are why I can. You'll rarely find them outside of a specialty shop otherwise. Thanks Sharon!!
Remove peel in quarters from orange and lemon.
Lay quarters flat and remove about half of white part.
With scissors, cut remaining peel into fine shreds.
Put in kettle; add water and soda.
Bring to boil and simmer, covered, for 10 minutes.
Remove pulp from membrane; add with juice to peel.
Cover; simmer for 15 minutes, adding more water if necessary and blueberries and sugar; bring to boil; simmer for 5 minutes.
Remove from heat and stir in liquid pectin.
Stir and skim by turns for 5 minutes.
Pour into hot sterilized jars, and seal.
Makes about six 1/2 pint jars.