gertc96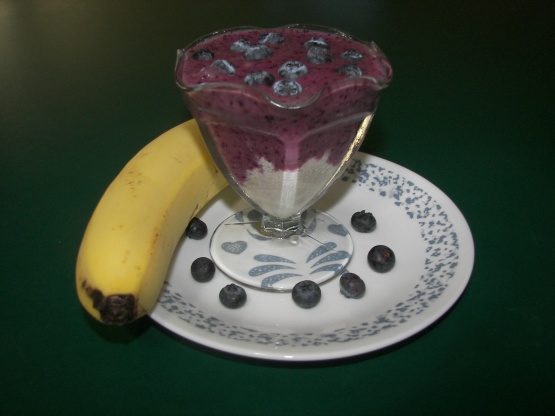 This is an all time favourite at my house, I hope that you will enjoy it also. For best results chill the apple cider before using and don't forget to chill your glass because this sweet, rich, creamy, drink is best served in a nice chilled glass.

Banana Pudding ice cream was the only banana flavored ice cream I could find. I also used fresh blueberries that I put in the freezer to chill before using. Typically DD doesn't like blueberries in her smoothies and she says she doesn't like banana in them, but I can sneak one in sometimes. She also wasn't thrilled with the idea of the banana ice cream. After all that complaining she gave this 4 stars. So I would say it's a winner.
Pour all the ingredients except for the ice cream and blueberries for garnish, into a blender and process until smooth.
Next pour into a glass and add your scoop of banana ice cream, garnish with the whole blueberries add a straw and enjoy.