Lvs2Cook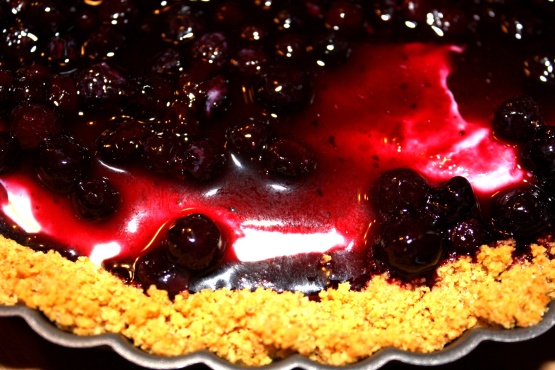 I love the lemon taste in this blueberry tart. It is easy to prepare, and I use fresh blueberries in the summer and frozen ones in the winter. Either way, it turns out delicious!

Wonderful dessert! I made this using less sugar or sugar-free products and it was wonderful. I made a graham cracker crust instead of the cookie crust, sugar-free pudding, sugar-free whipped topping, and Splenda blend instead of all sugar. Just delicious! Thank you so much for posting a keeper!
Heat oven to 400 degrees. Lightly spray tart pan with removable bottom, 9x1 inch, with cooking spray. Mix crushed cookies, egg white and butter until crumbly. Press onto bottom and up the side of pan. Bake 8-10 minutes or until light golden brown; cool.
Beat milk, pudding mix and lemon peel in medium bowl with electric mixer on low speed about 2 minutes or until smooth. Chill 5 minutes.
Fold in whipped topping. Spread over crust. Cover and refrigerate at least 2 hours until chilled.
Blueberry Topping: Mix sugar, cornstarch and water in 1-quart saucepan. Stir in 1/2 cup of the blueberries. Heat to boiling; reduce head to medium-low. Cook about 5 minutes or until slightly thickened.
Stir in lemon juice; remove from heat. Cool 10 minutes. Stir in remaining 1 cup blueberries. Cover and refrigerate at least 1 hour until chilled. Spread over prepared tart and store, covered, in refrigerator.