Dwynnie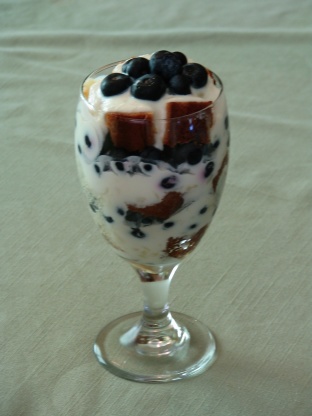 I adapted this recipe from one I found online that used blueberries, lemon yogurt, and crushed gingersnap cookies. I couldn't find lemon yogurt and I needed some cake in there! A great and easy summer dessert. Variation: If you don't like yogurt, try this with lemon pudding! Or change it up and use lemon pound cake with white chocolate pudding!
Mix the lemon curd into the yogurt until mostly smooth.
Layer 1/3 of the pound cake, with approximately 4 Tbs of yogurt mixture, and 1/4 cup blueberries in a parfait glass.
Repeat Step 2, reserving a few blueberries for the top of each glass.
Top with the remaining cake and spoon approximately 3 Tbs of the yogurt mixture into the center of the glass.
Top with the reserved blueberries and a mint leaf (if wanted) for garnish.
Refrigerate for 30 minutes before serving.