Boomette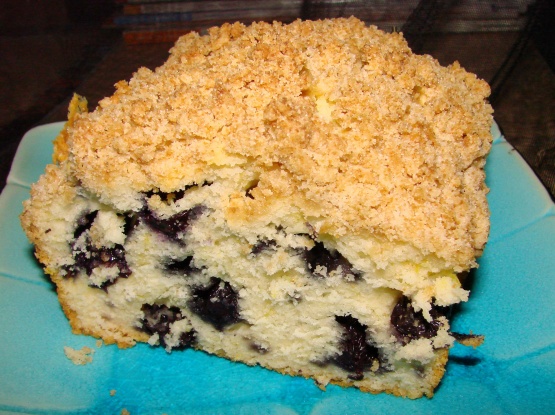 Lemon, blueberries... two of my favourite things! Courtesy of Robin Hood.

I am rating this on flavour since I had a few problems at my first attempt . Some of those I should of used my judgement and corrected but didn't LOL. This is the only recipe I have ever made two days in a row LOL The smell of it baking is enough to start anyone drooling. My DH is not a big sweet eater but LOVED this and could hardly wait for the second one to come out of the oven to have a slice. The first time I made it I used the pan size suggested and should of taken some of the batter and made a couple of muffins. During cooking it rose and did a major muffin top . This made it hard to cut and crumbled during cutting. I used most of the crumble. I used fresh berries and most seemed to sink to the bottom. I also added a bit more zest. We love it so I always add more. Second day I used a 9 1/2 by 5 1/2 pan that is 2 1/2 inches deep. Worked perfect. I also made sure I put the parchment paper in the whole pan ( I usually just do bottom and long sides) I floured the berries this time and the sinking was less.But then the berries are HUGE this summer. Second time I was low on lemon zest so used lime WOW . I liked it even better. I also added about 2 tablespoons of lemon juice when adding the eggs and cut back about that much on the milk. I also only did about 1/2 the crumble and gently smooshed it into the top. Not enough to bury it but just enough so it stuck and didn't fall off during cutting. All in all this will be made many times and is going in my Divine Recipes of 2009 Cookbook. I have already sent the recipe to my DD for her to make LOL Made for 1,2,3 Hit Wonders
Preheat oven to 350ºF (160ºC). Line an 8.5" x 4.5" (1.5 L) loaf pan with parchment paper.
Streusel Topping: In bowl, combine granulated and brown sugars and flour. Cut in butter until mixture is very crumbly; set aside.
Using electric mixer, cream butter and sugar together. Add eggs, one at a time, beating well after each addition, then vanilla. Combine flour, baking powder, salt and lemon rind. Using wooden spoon, alternately stir dry ingredients and milk into butter mixture, making three additions of dry and two of milk. Gently fold in blueberries. Transfer to prepared pan. Sprinkle with streusel.
Bake in centre of preheated oven for 70 to 75 minutes or until topping is golden and cake tester inserted in centre comes out clean.
Tips:.
If using frozen blueberries, do not thaw. Toss gently with 1 tbsp (15 mL) all purpose flour before folding into batter, to prevent the blueberries from "bleeding".
The streusel doubles and triples well. Use on top of muffins, open-faced pies and other quick breads.