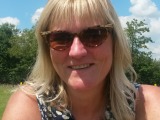 Not really a loaf, really a lemon and blueberry drizzle cake. Very moreish and freezes really well (without the glaze). Taken from "Nova Scotia Cooking" by Charles Lief and Heather MacKenzie. Always comes out well.
Directions
Cake:-.
Heat oven to 180C/ 350°F.
In a bowl cream butter and stir in sugar a little at a time.
Beat in eggs.
In a small bowl combine flour, salt, baking powder and lemon rind.
Add flour mixture alternately with milk to the butter mixture; blend until smooth.
Fold in blueberries (if using frozen dust lightly in all-purpose flour).
Put mixture in a greased10 x 6 inch loaf tin.
Bake for 1 hour.
Topping:-.
Mix sugar and lemon juice until sugar is dissolved.
Carefully remove loaf from pan (after cooling slightly) and spoon topping over the warm loaf.
Most Helpful
The taste is wonderful even though I made some changes. Instead of butter, I used unsweetened applesauce. Instead of sugar, I used 2/3 cup of Splenda. I used frozen blueberries. And I didn't add the glaze. Thanks Lou Van. Made for The top favorites of 2008 tag game
It's a keeper! Followed the recipe exactly and it turned out as I had hoped. Loved the topping. Thanks for sharing Lou van.
Fabulous!!!!!! My children are tucking in as I type. So easy.I used a part butter part olive stick.I made muffins out of the mixture as I need a new larger loaf pan. They turned out so light and airy and tasty.Really one of the best I have made!!!! The topping was a very tasty touch.Thanks for the recipe!!!