Blueberry Lemon Jam (No Pectin Recipe)
jovybeee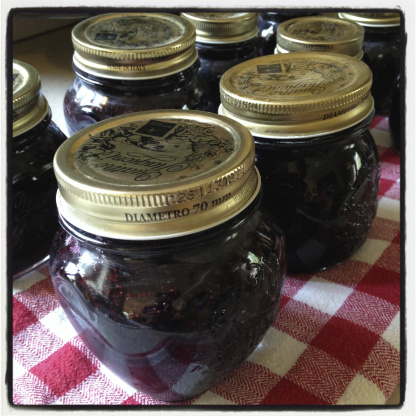 This is a wonderful, slightly chunky jam made without Pectin. For a more intense Lemon Flavor, add an extra teaspoon of Lemon Rind to the recipe.

This was my first time making blueberry jam, and my first time making any kind of jam without pectin. It turned out great! I doubled the recipe since I had six pints of fresh berries to work with. I followed another reviews recommendation, and for the 12 cups of blueberries I had, I only used 4 cups of sugar in total (2 cups for each recipe). After 15-20 minutes of boiling I reached the right thickness. I didn't get any foaming that I noticed. The resulting jam has just the right amount of chunkiness for our family, jelled up beautifully, and you can really taste the flavor of the berries by using less sugar. This recipe was really quick and easy. I'll make this again for sure!
In large stainless steel or enamel pot, crush 3 cups blueberries with a potato masher.
Add remaining berries, sugar, lemon juice and lemon rind.
Bring to a boil over medium-high heat and boil for 15 to 20 minutes or until thick, stirring often.
Skim off any foam.
Ladle jam into hot jars to within 1/4" of top rim.
Can jam using preferred Safe Canning method.