Diana 2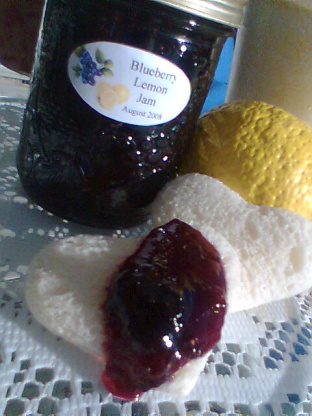 I love the combination of blueberry and lemon, so I can't wait to give this a try. From Ball Home Canning Products. It assumes you know safe and proper canning procedures.

I gave this a five, but with some caveats. I made a batch of the recipe as is, and it was toothachingly sweet! And really didn't have the lemon tang I wanted. So I made another batch and I lowered the sugar to 4 1/2 cups. I raised the lemon juice to 1/2 a cup and I also raised the lemon zest to 4 tsp (or two whole lemons worth). The result? Perfection! As a rule of thumb, most jams have a 1:1 sugar to fruit ratio.
Prepare jars and lids according to manufacturer's instructions.
Combine blueberries, sugar, lemon peel, and lemon juice in a large saucepot.
Bring to a rolling boil over high heat; stir frequently.
Stir in pectin.
Boil hard for 1 minute.
Remove from heat and skim foam (if necessary).
Immediately ladle into hot jars, leaving a 1/4 inch headspace.
Cap and process for 15 minutes in a boiling water canner.