CoffeeB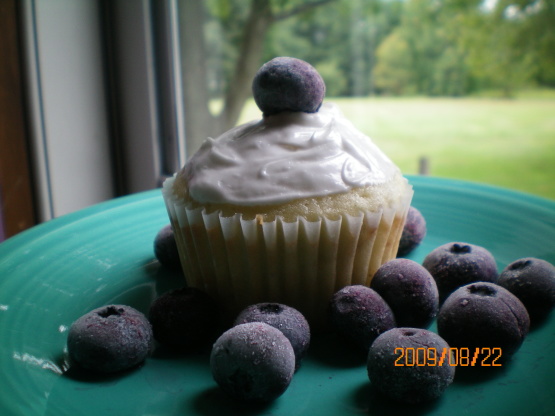 This is a great, versatile recipe. Try subbing the lemon for lime and the blueberries for strawberries... or orange and raspberry... or any other combination you can think of! I like to frost with a simple vanilla buttercream, but a fruit-flavored icing (with lemon extract instead of vanilla, for example) would probably be great, too!

These are delcious little cuppies of goodness. With the perfect blend of blueberries and lemon for a fantastic sweet/tart taste. The only deviance I made to your recipe was in the baking time. Mine took a full 23 minutes. And..I only got 16 medium size cupcakes. I think if you filled your papers almost to the top, 12 would work just fine as they don't puff up that much. Made for Theirs, Yours and Mine Recipetag~
Preheat oven to 350*F. Blend the butter substitute, sugar, and applesauce together until creamy.
Mix the flour, baking soda, and salt together in a separate bowl. Add dry mixture to the butter mixture, a little at a time, alternating with the soy milk.
Add the lemon zest and lemon juice. Add blueberries and hand stir until evenly distributed through the batter.
Fill lined or greased cupcake tins 3/4 full. Bake for 20 minutes or until a toothpick inserted into the center comes out clean.