Rita1652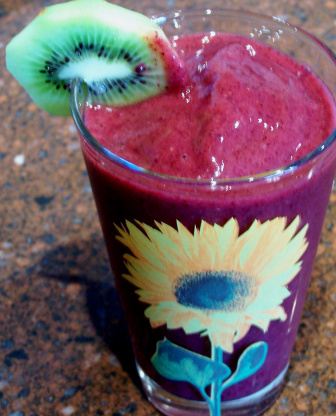 So satisfying to invent a really good smoothie. Lots of nutrients, awesome fruity flavors and no fat here!

Wow! I forgot to soak the dates, so they ended up like little gummy surprises in the smoothie. Which was good, actually! But really the main thing I want to say is that I was *so* glad I had purchased enough kiwis to have this again the next day. This drink is *really* good! For take 2, I whirled the (unsoaked again) dates in the blender first with some water so they would mix in better. Not for me, mind you, but for my 5-year-old son who thought the date chunks were weird. I did both times have to use some water to get the blender going. Great recipe! Thank you! Reviewed for Healthy Choices ABC game.
Pour hot or boiling water over the dates in a small bowl and let soak for 5-10 minutes, to soften. Note: if using another, less sweet type of date, such as medjool, I'd suggest using one or two extra.
Transfer dates (without water) and other ingredients to the blender. You can reserve some blueberries for garnish if you like. Blend until smooth. Stir in the extra berries.
Enjoy!