BarbryT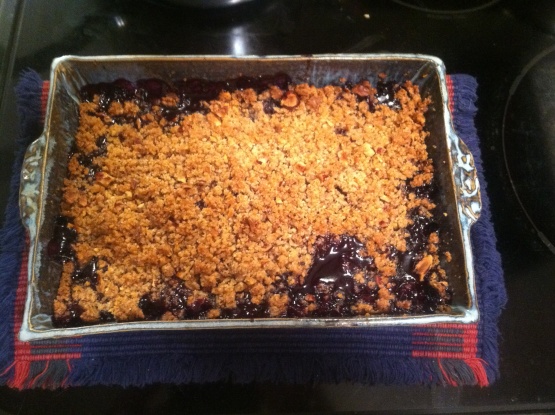 Pacific Northwest hazelnuts; Pacific Northwest blueberries in July/August. I got this recipe from a handout from Central Market in Shoreline, WA. Enjoy!!

Top Review by Debbwl
Heaven must be blue and crumbly. Most crumbles and crisp need vanilla ice cream, but not this on it stands on its own. In fact ice cream will actually deter from the great taste of this crisp. The hazelnuts give a nice nutty taste with out over powering the blueberries. This makes an easy six servings if you are inclined to share, although after one taste you may just want to keep it all to yourself. Thanks for the post.
Preheat oven to 375°F Butter a shallow, 2-quart baking dish.
In a mixing bowl, combine sugar, flour, blueberries and lemon juice; toss together. Transfer to baking dish.
In work bowl of a food processor, pulse hazelnuts until coarsely chopped. Remove half of hazelnuts to a mixing bowl. Add flour, sugar, brown sugar and salt to food processor. Pulse to combine. Add butter and pulse until mixture resembles course crumbs.
Add mixture to bowl with hazelnuts. Work together with hands until mixture clumps together. Crumble chunks of topping over blueberries.
Bake until filling bubbles and topping is golden brown and crisp, about 45-50 minutes.
Cool slightly before serving.